News
It's time to build new pathways for our region's creative and cultural messengers, especially Black voices.
Our region is home to an array of renowned arts institutions and venues, sustained by a bedrock of local creative talent. But with resources frequently following the well-worn path to established players, widely recognized works, and well-staffed organizations, our region's arts sector has yet to unlock its full potential. At Catalyst of San Diego & Imperial Counties, we are working with funders and community partners to develop a more nuanced and intersectional understanding of the creative ecosystem and the multicultural, multiethnic communities that drive it. The arts funding space can be narrow and white-centered. But when we reimagine artists as cultural messengers at the intersections of major issues like social and environmental justice, the need for more diverse voices becomes clear. Moving toward this goal can ultimately enrich the lives of everyone in our region. It's also an essential strategy to open new spaces to process and understand the issues of our day through self-expression, dialogue, and healing.
Tearing down barriers for artists in San Diego
Photo from The Black Iris Project
Jeremy McQueen is distinctly qualified to shed light on the challenges of equity in the arts. He is the founder and creative director of the Black Iris Project (BIP), a collective that presents original ballets and cross-disciplinary works about social justice and the Black experience. After accruing national recognition and years of experience presenting original pieces in world famous venues like the Kennedy Center, McQueen hit a funding wall in his hometown of San Diego. A recent San Diego Union Tribune profile on the Emmy award-winning choreographer suggests that McQueen is not the only artist to contend with funding struggles in our region: "Exorbitant venue rental costs, cultural ignorance, a dismissive response to concerns of racial inequalities, and funding models that make artistic careers a bleak option for survival have become a common occurrence in America's finest city."
To ensure the particularities of a grant application didn't prevent McQueen from sharing his art in his hometown, Catalyst is acting as fiscal sponsor for the San Diego debut of Black Iris Project on February 8th. This thought-provoking performance at the Balboa Theatre will feature two original ballets: WILD and A Mother's Rite. Like other pieces in the BIP repertoire, the ballets are designed to inspire youth to pursue art as an expressive outlet and means for collective healing. The pieces shed light on broader social issues like gun violence and mass incarceration, as well as educate audiences about how Black history relates to the modern Black journey. Tickets for the performance are available now.
As Catalyst and its members work to eliminate racial and other biases in funding for artists and culture bearers, we see fiscal sponsorship as a strategy with powerful potential. In addition to enabling artists to accept donations and corporate sponsorships, fiscal sponsorship can help clear a variety of financing obstacles. Join Catalyst on February 2nd for an introduction into the purpose and opportunities provided by fiscal sponsorships. Presented at You Belong Here, a co-working and community event space for San Diego creatives, this program will address the unique needs of artists, makers, culture bearers, and creative entrepreneurs, as well as highlight how one funder has adapted to their needs. It is open to funders, artists, and the public.
We also have a special engagement with Black Iris Project founder Jeremy McQueen on Thursday, February 9th for a panel conversation on equity in the arts, Black experiences, and their intersections in accessing funds and grant support. Local funders and policy makers; creatives, artists, makers, performers; community organizations; and community members are encouraged to join us at the San Diego Central Library. The San Diego Library also works to support stronger communities through Library Foundation SD, which invests in literacy, work readiness, and lifelong learning to ensure equal opportunities for success.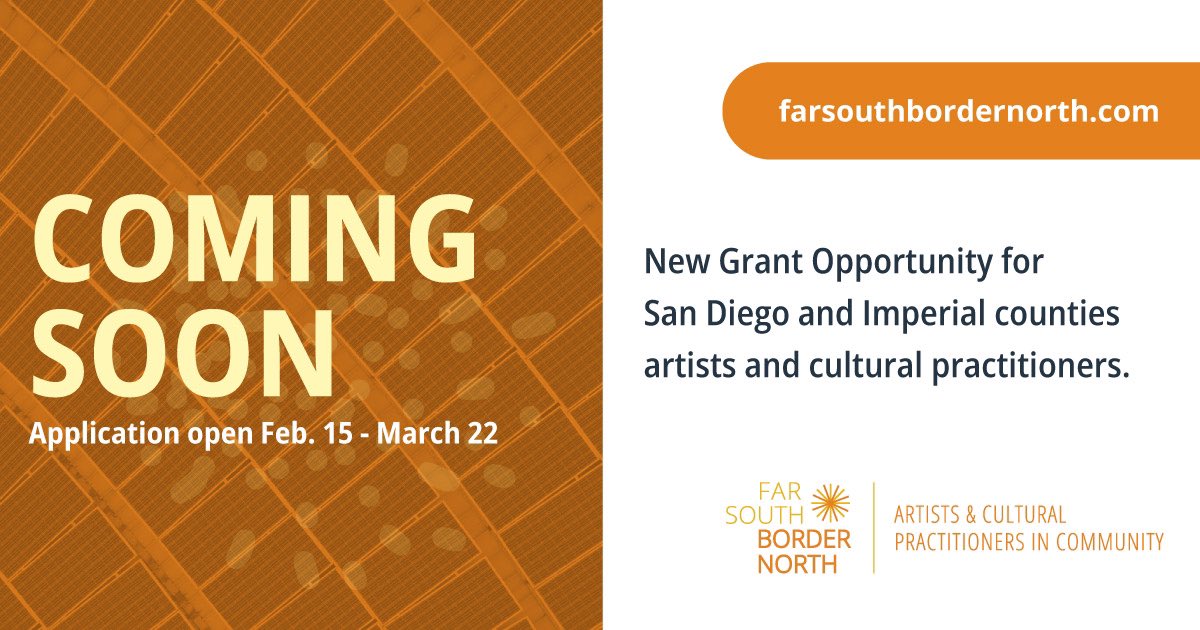 More ways to support equity in — and through — the arts
The $4.75 million California Creative Corps pilot program in San Diego and Imperial counties offers artists and culture bearers funding to work on public health, environmental, civic engagement, and social justice campaigns. Known as Far South/Border North: Artists and Cultural Practitioners in Community the program undertaken with the City of San Diego, San Diego Regional Arts & Culture Coalition, and funded in part by the California Arts Council, a State Agency, will build infrastructure for the creative workforce to contribute to social impact and civic engagement. Catalyst will partner in grantee selection; support applicant cultivation and technical assistance; and award grants totaling $3.8M. We are seeking applicants for the 15 hour-per week role of Program Manager (application open until filled). There are also opportunities for five nonprofit organizations to act as intermediaries, known as social impact hubs, to work with funded artists to accomplish program goals (proposal open through February).
Launched through a four-part series produced in partnership with the City of San Diego Arts & Culture Coalition and Clare Rose Foundation in 2022, the Arts & Intersections Funder Collaborative works at the juncture of the arts and social justice, environmental justice, community health, youth development, and equitable workforce development. Catalyst collaboratives are issue-based communities within our network where members and cross-sector partners come together to learn, plan and act to address specific issue areas. To learn more or to join the Arts & Intersections Collaborative contact Kamaal Martin.
We believe a healthy creative ecosystem is part and parcel of building resilient, regenerative communities that ensure a high quality of life for all. How can we shift resources and power in the arts sector to make this happen? How can funders be part of the work to sustain creative practitioners and uplift the voices of underrepresented communities? There are some truly exciting opportunities emerging, and we look forward to continued collaboration across sectors to foster a more agile and dynamic cultural ecosystem in our region. Join us at our upcoming events to further explore these questions.