News
It almost didn't happen… without collaboration!
In 2017-2018, San Diego Grantmakers funder collaboratives granted more than $2 million. Find out why combining knowledge, funds and expert support makes our members more effective.
It almost didn't happen. The meeting was winding down, nothing was left on the agenda. But then a 30-second update turned into $200,000. And now more kids stay with their families because their parents can keep their homes. With no hesitation, the members of Funders Together to End Homelessness San Diego approved a $100,000 grant to the County of San Diego, which triggered the State of California to match those funds with an additional $100,000. Over years of working together, the people and foundations involved in this effort built shared understanding, common goals, and trust. With staff support and guidance, they maintain an updated matrix of funding priorities and accounting of available funds. This allowed them to make what might otherwise look like a quick decision to advance their mission and attract more funding to San Diego. This is not magic or a fluke.
It's collaboration.
San Diego Grantmakers supports funder collaboration and cross-sector projects through a Learn-Plan-Act continuum to combine and leverage their strengths and dollars. We have seen time and time again that our members can make a greater and more strategic impact in our community when they work together. We believe that effective philanthropy benefits from peers sharing their knowledge, codesigning strategies, and leveraging their own and outside funds. San Diego Grantmakers staff is here to help.
San Diego Grantmakers dedicated staff support for collaboration can include:
Meeting planning and facilitation
Issue research and speaker presentations
Subject-matter consultant hiring and management
Grant LOI & RFP design, grant processing, and grantee relations
Design and support for funder outreach to grow the pool of funds available
Funder relations (communication, proposals, and reports to participating funders)
Financial management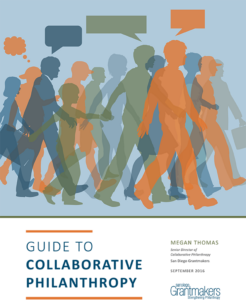 See our complete Guide to Collaborative Philanthropy. Thanks to the generous support of the Satterberg Foundation, the Learn and Plan phases of collaboration are underwritten through 2020 and provided to all approved funder collaboratives. Action phases (consultants, grant management, and fundraising) are supported by participating funders at very reasonable rates, usually $5,000-10,000.
Collaboration takes time and thoughtful facilitation. Alongside our members we experience the truth of "moving at the speed of trust." In 2017, the San Diego Food Funders decided to develop a grant together that would ensure more kids eat healthy meals. With SDG's support, they invited community input from school district and County staff; nonprofits that serve youth meals; technical assistance providers; funders; and more. They contracted with consultants to conduct local and national research about the best role for philanthropy in this area. And they developed a grant that will benefit our region, provide guidance about the most effective strategies for future funding, and which all participants value as contributing to their mission and passion. In July 2018, the group awarded over $356,000 of grants to six organizations throughout San Diego County. [Press Release]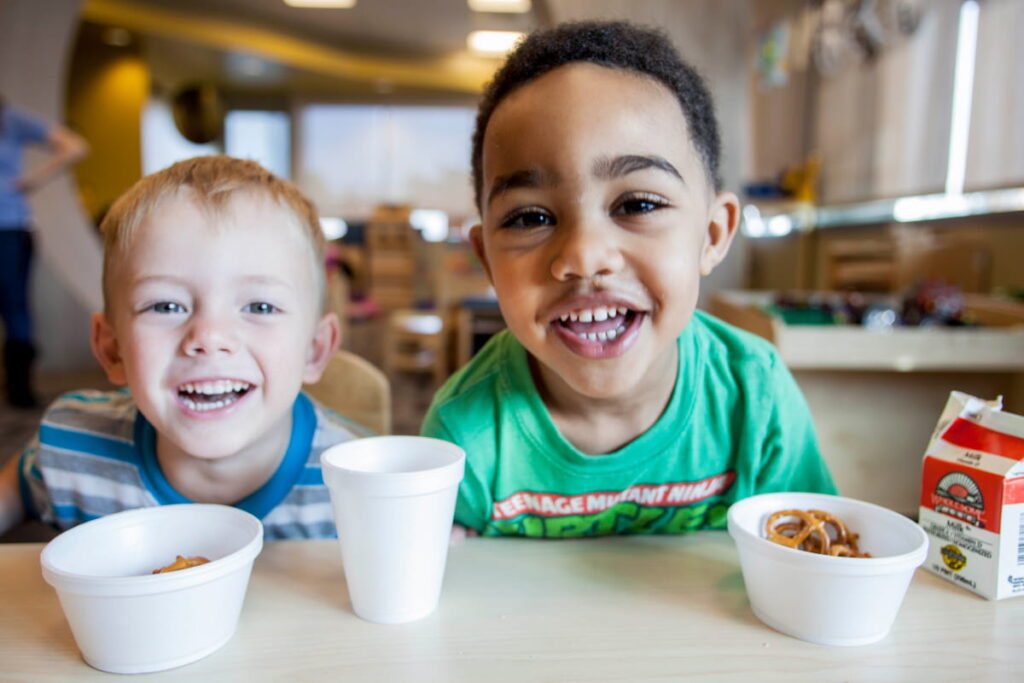 Children enjoy a nutritious afternoon snack served at Father Joe's Villages.
Do you see yourself in these stories? Are you searching for like-minded individuals to build a collaborative grantmaking or problem-solving effort?
Join or support one of our current funder collaboratives:
… or create a new one!
Contact Megan Thomas, Vice President of Collaboration & Special Initiatives to learn more. Email megan[at]sdgrantmakers.org or call 858-875-3332.