News
Funding Our Future: Highlights from Catalyst's 2023 Annual Conference
On Tuesday, October 24th, over 200 Catalyst members and partners came together at the California Center for the Arts, Escondido (CCAE) for our 2023 annual conference, Funding our Future: Examining Wealth, Power, and Community. The day was packed with knowledge, connection, and inspiration. You can access all of the photos and see if you can spot yourself in the gallery here. Keep reading to dive into some of the highlights of the day and stay tuned for a full recap video coming soon!
Flavors from North County

As attendees walked into the CCAE conference center, they enjoyed some delicious goodies including donut holes, muffins, and Nem Nuong Musubi from local North County, BIPOC, female-owned businesses:
A Grand Commencement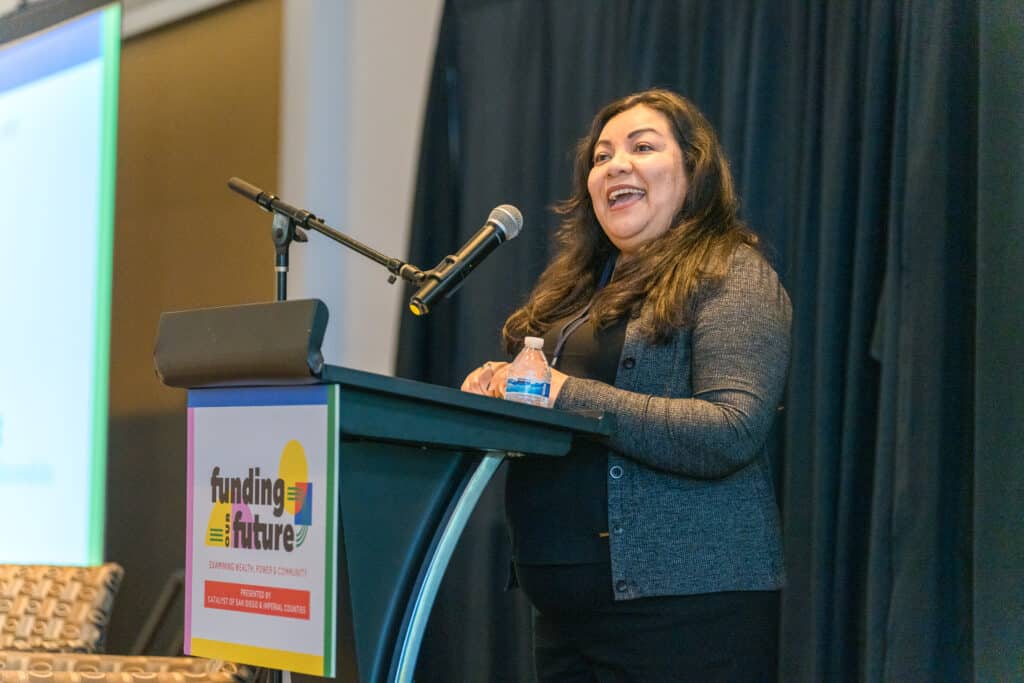 The day began with a warm welcome from Consuelo Martinez, a dedicated Escondido City Councilmember (and part of our San Diego Leaders coalition), who graciously invited us to explore her cherished "hidden city." Dr. Stanley Rodriguez, member of the Iipay Nation of Santa Ysabel and President of Kumeyaay Community College, led us in land acknowledgment, recognizing that our gathering took place on the traditional and unceded territory of sovereign Kumeyaay, Luiseño, Cahuilla, and Cupeño people.
"What Would Dolores Huerta Do?"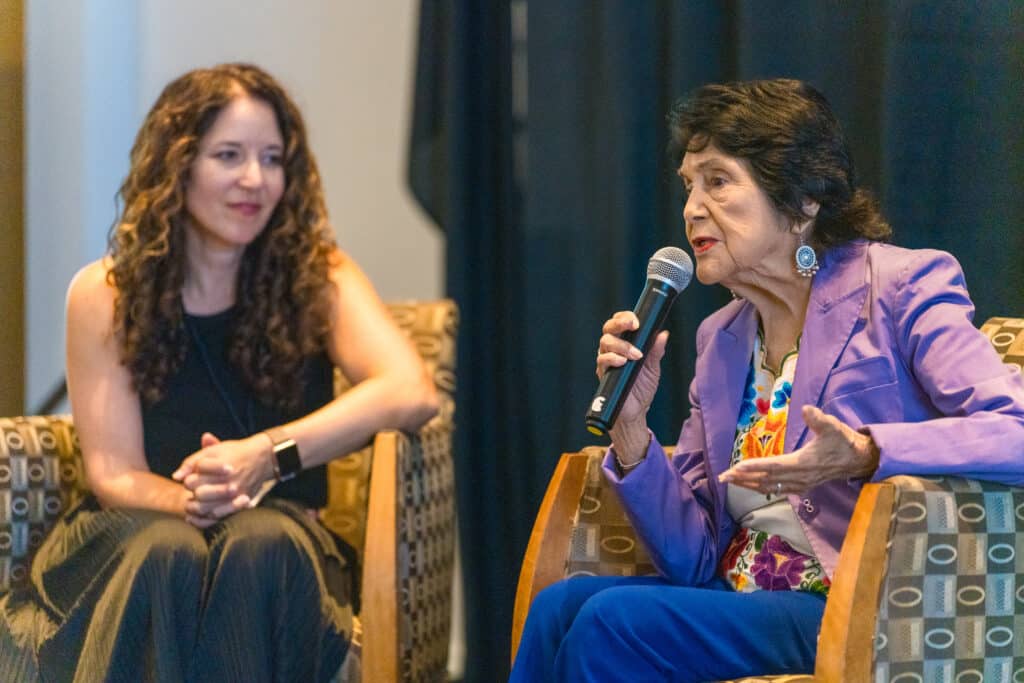 The highlight of the day was moving remarks by Dolores Huerta, co-founder of the United Farm Workers and President of the Dolores Huerta Foundation. Her powerful words resonated: "It's one thing to advocate for people. It's another thing to teach people how to advocate for themselves." Her speech garnered a well-deserved standing ovation, and you can look forward to a recording of her full speech coming soon.
A Culture of Repair: Building Transformative Funding Practices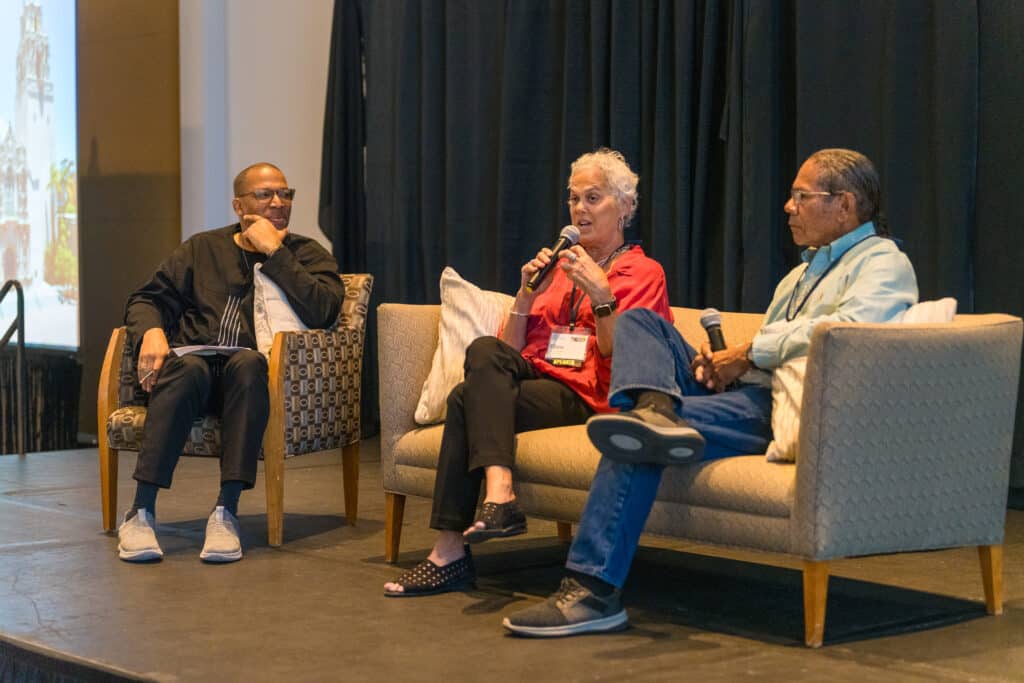 Dr. Stanley Rodriguez returned to the stage, this time accompanied by local funder Ellen Waddell and Edward Jones (ABFE, A Philanthropic Partnership for Black Communities). Together, they explored the potential of philanthropy in fostering a culture of repair. In the words of Edward Jones, "Think of the wars that have been fought… the war on poverty, the war on drugs, race wars. After a war, there is always a winner and loser, and a need to repair the damage that's been done."
Ellen shared her personal journey, starting with understanding that her formal education did not make her an "expert" about other people's lives and bringing her to her current vocation of volunteering and financially supporting the repatriation of cultural belongings to indigenous people. Dr. Rodriguez described the importance of creating a place of learning that invites Native and non-Native people to learn about the cultural practices of the Indigenous people and to practice the Kumeyaay language, currently spoken by fewer than 30 individuals.
Nancy Jamison Fund for Social Justice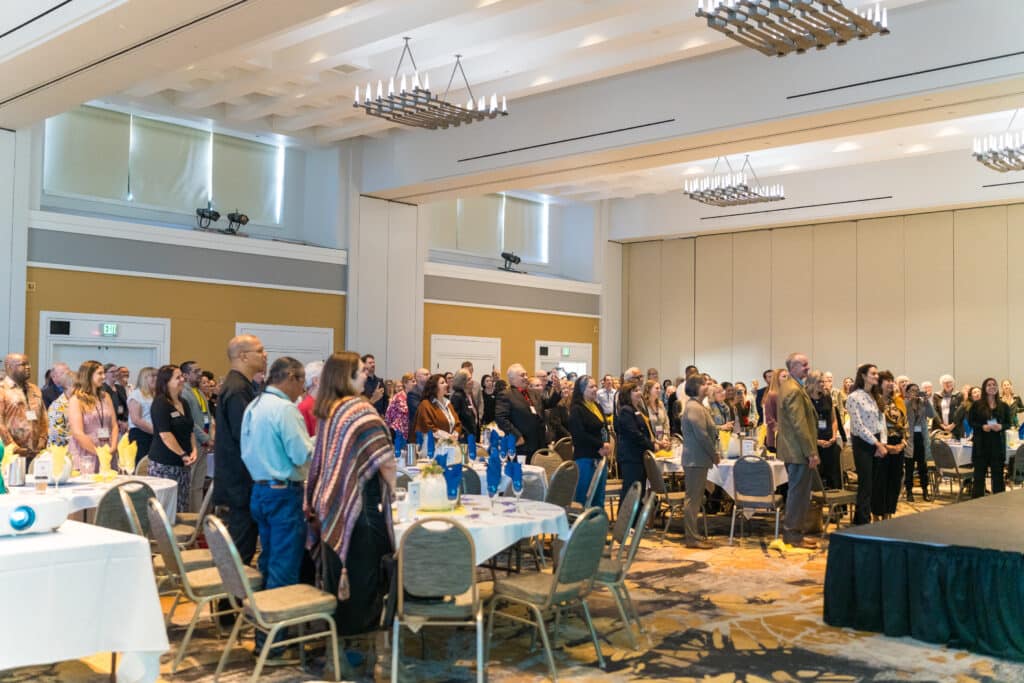 The crowd was moved to applause and tears by the announcement of the Nancy Jamison Fund for Social Justice. The fund honors Catalyst's long-time CEO and philanthropic leader, Nancy Jamison, who passed away in 2021. Guided by a grants committee of community organization leaders and Nancy's husband, this fund will grant $50,000 in unrestricted funding annually to at least two individuals actively working towards racial equity and social justice in San Diego County. The grants committee approached this endeavor with joy, grounded in Nancy's unwavering belief in people. Grab your tissues and watch the video announcement or nominate a leader here.
Lunch on the Lawn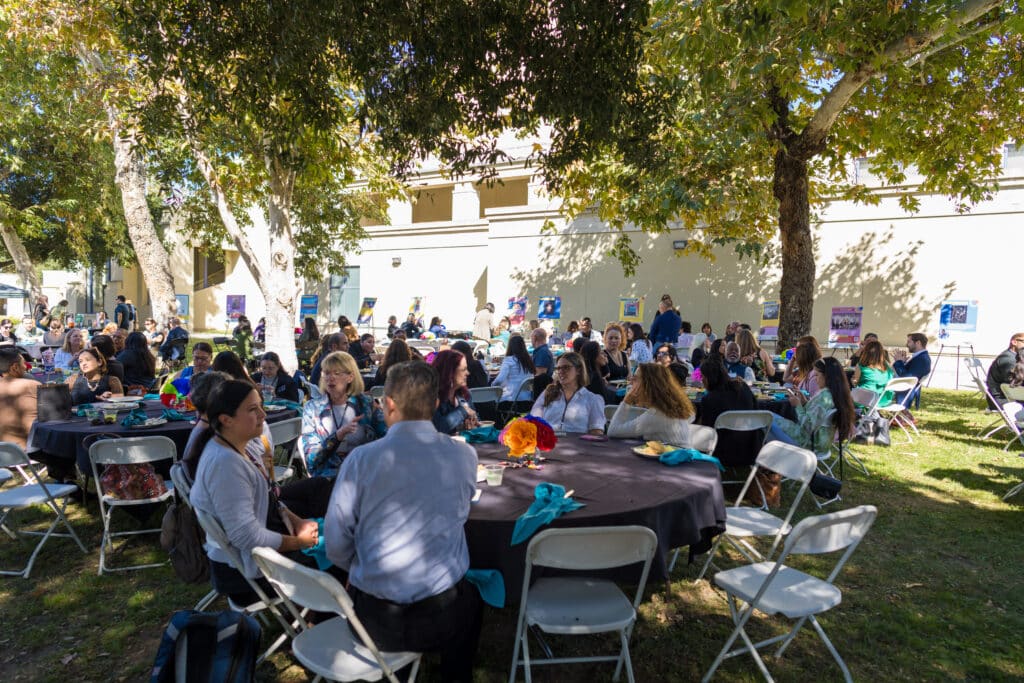 After an info-packed morning, we took a break to relax in the sunshine, enjoy tacos and churros, listen to music by SM Familia, and shop a curated local vendor marketplace!
Vendors
Music
Centerpieces
Empowered Communities: Cultivating Inclusive Economic Structures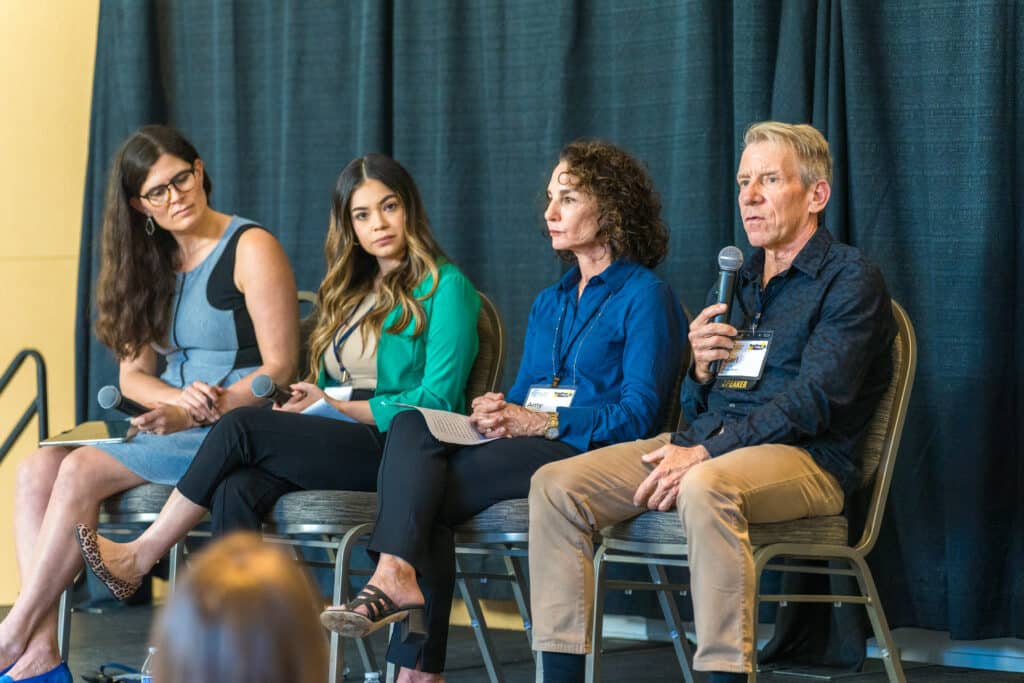 We reconvened after lunch to dive deeper into the theme of funding for equitable communities with a discussion on how we can cultivate inclusive economic structures. Vanessa Carter Fahnestock of Common Future laid the groundwork to envision a future in which communities have economic power and everyone thrives. Karinna Gonzalez of Hammond Climate Solutions and the San Diego Green New Deal shared why in a transforming economy, workers need to be equipped with skills and training so that their prospects rise with the regions'. Donors Amy Corton and Carl Eibl shared their very personal experiences as individuals who have recognized their own privilege and, with a great deal of humility and a leap of faith, committed to letting go of much of the control they have. Joking with one another (it was truly endearing), they talked about how connecting with other donors who are thinking about reparations and redistribution and working with and through groups like Catalyst has given them a way feel connected and learn as they go.
Empowered Funders: Guiding Your Journey Towards Equitable Grantmaking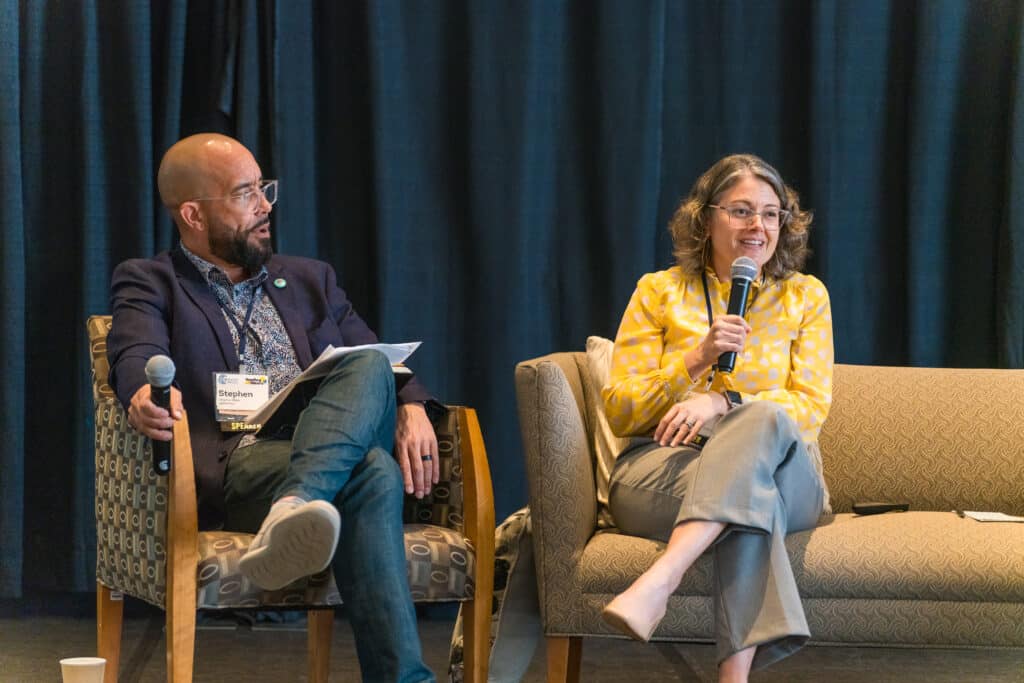 In a parallel session, we explored the crucial role of funders in guiding the path towards equitable grantmaking.  Stephen Minix from UpMetrics, energized and engaged the crowd as moderator while Amy Abrams (Grossmont Healthcare District) and Dimple Abichandani (National Center for Family Philanthropy) spoke candidly about their challenges, successes, and continued growth opportunities on their own grantmaking journeys.  There was discussion of continuing the conversation with funders through follow up programming at the Catalyst offices on 11/16.
Frida Kahlo Topped Off the Day 

As the day drew to a close, we gathered for a relaxed and convivial reception at the California Center for the Arts, Escondido's very own museum, featuring artwork from the exhibit "Frida Kahlo: Through the Lens of Nickolas Murray" and wines from SIP Wine & Beer (sipwineandbeer.com @sipwinebeer), a local, female, BIPOC-owned business whose mission is to represent diverse brands, thought, and perspectives.
Thank you!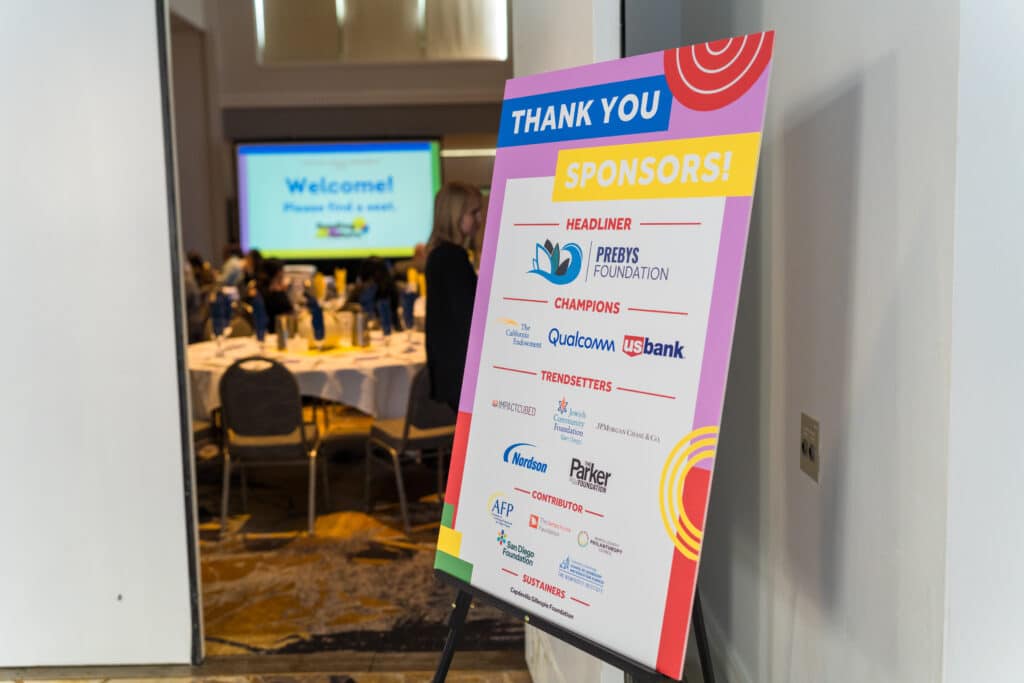 The 2023 annual conference was an unforgettable day. Thank you to each of you who were able to be a part of it. If you weren't able to make it, don't worry, we're here to catch you up! Join us on November 16th for a lunch and learn about equitable grantmaking, and stay tuned for more opportunities to connect, create, and continue the conversation.
We look forward to sharing more insights and the full experience with you through our upcoming recap video. Thank you for being a part of this journey together, and we look forward to continuing the discussions!