Press Release
SDG's STEAM Funders Launch Mentorship Hub for Women and Girls
FOR IMMEDIATE RELEASE
Contact: Megan Thomas
[email protected]
858-875-3332
San Diego Grantmakers' STEAM Funders Launch Mentorship Hub for Women and Girls
$82,500 in pooled grants will connect schools and companies to high quality youth mentorship opportunities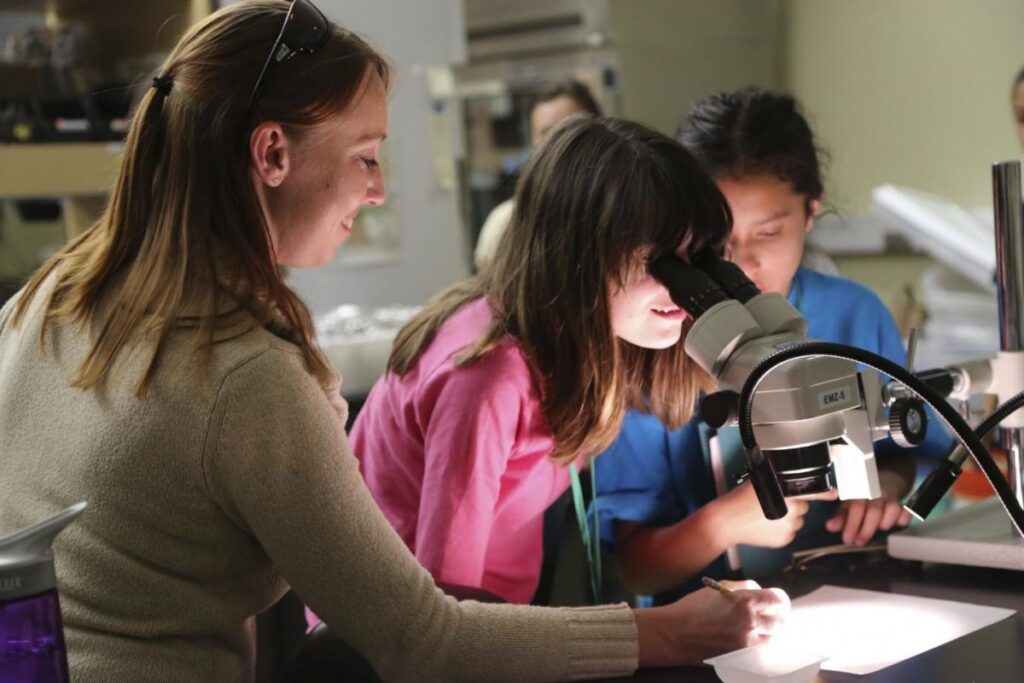 Connecting young women to role models encourages them to be what they see and pursue a career in STEM.
August 26, 2019 SAN DIEGO – The Science, Technology, Engineering, Arts, and Mathematics (STEAM) Funders Collaborative of San Diego Grantmakers has announced a two-year, $82,500 grant in support of increased training and connections-building for female mentors and mentees through the San Diego STEM Role Model & Workforce Development Initiative.
The Initiative will establish a one-of-a-kind STEM role model and mentorship hub for companies and school districts seeking to address science, technology, engineering, and math mentorship across female students and workforce. It will connect more than 300 partner organizations affiliated with the San Diego STEM Ecosystem in an effort led by the Women in STEM working group.
The grant is made possible through funding from several organizations, including Genentech, J.W. Sefton Foundation, Nordson Corporation Foundation, Northrop Grumman, Qualcomm, SDG&E, STEM Next Opportunity Fund, The San Diego Foundation, and Viasat.
With initial focus spanning four communities – Clairemont, Escondido, Encinitas, and Oceanside – the funding will be used to match girls and others underrepresented in STEM fields with long-term supportive role models; enhance role models' mentorships skills through training and peer groups; and connect companies and their employees with quality mentorship programs that advance STEM workforce development.
"San Diego has a wealth of organizations running role model programs that serve diverse communities and specific audiences. Many of these organizations share common needs including those around recruiting, training, retaining, and connecting role models to programs and mentees. With this initiative, we can work together to address those needs efficiently and effectively, while at the same time strengthening our collaboration," Nhu Tran, Community Relations Manager at SDG&E and Chair of the STEAM Funders collaborative stated.
The Fleet Science Center will support the initiative, as part of its work with the San Diego STEM Ecosystem. "The Fleet Science Center is passionately focused on putting science at the service of community in order to help communities attain their aspirations through STEM," said Eric Meyer, Assistant Director of Education at the Fleet Science Center and Central Project Office Lead for the San Diego STEM Ecosystem.
Research (1) shows that girls and boys do not significantly differ in their abilities in mathematics and science but do differ in their interest and confidence in STEM subjects. Interest and confidence are two factors that the presence of role models can positively influence. In a recent survey conducted by the San Diego STEM Ecosystem of San Diego's STEM landscape, 87 percent of students reported that they sometimes find a shortage of role models and 47 percent of adults reported a shortage of opportunities to become STEM role models.
"To ensure a skilled future workforce and thriving families, our tech and innovation-driven region needs strong role models who support our girls in STEM topics and careers," Megan Thomas, vice president of collaborations and special initiatives for San Diego Grantmakers said. "This funding provides critical support to build strong and effective mentorship relationships throughout our region."
The Women in STEM are having a summer networking event on August 28 at SDG&E. All STEM professionals interested in supporting women in STEM careers are encouraged to RSVP for this free event at: bit.ly/SDSTEM.
###################
San Diego STEM Ecosystem
The San Diego STEM Ecosystem supports bringing together local stakeholders across education, science and business sectors to ensure all students have opportunities to develop the knowledge and skills they need to thrive. This group is reimagining how community partners, in and outside of school, can coordinate efforts and align resources to provide quality STEM education for more students. The Fleet Science Center acts as the Central Project Office to support collaboration among over 300 community partners, six working groups and an Executive Leadership Team.  For more information about the San Diego STEM Ecosystem and its collaborations and opportunities, visit SDSTEMEcosystem.org.
About the STEAM Funders Collaborative
STEAM Funders is a funder collaboration at San Diego Grantmakers that supports education and training that contributes to a workforce pipeline trained in science, technology, engineering, and mathematics, with strong creativity and interpersonal skills. To learn more, visit https://sdgrantmakers.org/steam-funders.
About San Diego Grantmakers
San Diego Grantmakers (SDG) is a nonprofit membership organization of more than 120 organizations and individual philanthropists seeking to improve outcomes for residents of San Diego and Imperial Counties, and beyond. Through learning, cross-sector collaboration, advocacy, grantmaking, and impact investing we connect and activate funders to learn, lead, and invest in our community. San Diego Grantmakers' vision is an equitable, collaborative, and impactful social change ecosystem that improves the lives of all residents in our region. To learn more, visit www.sdgrantmakers.org.
(1) Diversity Gaps in Computer Science: Exploring the Underrepresentation of Girls, Blacks and Hispanics. Google for Education, 2016.