News
Foundations on the Hill – March 10-13, 2019
Join us at Foundations on the Hill (FOTH) on March 10-13, 2019 as we head to Washington, DC to speak with our elected officials about the policies that matter most to philanthropy.
FOTH is presented by United Philanthropy Forum in partnership with the Alliance for Charitable Reform. It is an annual two-day opportunity for grantmakers and philanthropy serving organizations (PSOs) to meet with their federal lawmakers face-to-face in Washington, D.C. At FOTH, participants advocate for the philanthropic sector and educate lawmakers, both new to office and seasoned veterans, about the importance of philanthropy in their districts and states.
While the philanthropic sector builds relationships with Congress year round, FOTH is the one time a year when philanthropy comes together to speak with one voice to our elected leaders about the unique and vital role that charitable giving plays in America.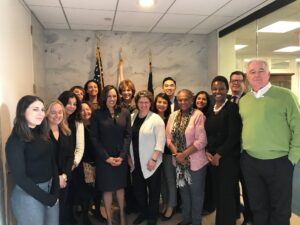 Foundations on the Hill:
Informs and educates Congress about philanthropy;
Creates visibility for foundations and philanthropy on Capitol Hill;
Advocates on issues affecting foundations;
Encourages Congress to view foundations as resources on key public policy issues; and
Builds your organization's relationship with lawmakers and their staffs.
Your Attendance Has Impact!
When polled by the Congressional Management Foundation, congressional staffers consistently indicated that direct constituent interactions have the highest influence on lawmakers' decisions – more than any other advocacy strategies.
By hearing from their constituents in philanthropy, your members of Congress better understand the impact of the work you do in their state and the policies necessary to ensure you can effectively carry out your missions. Building relationships with members of Congress and their staff is critical to influencing policymakers and gaining their support for our sector. By participating in FOTH, you have significant potential to further develop key relationships on Capitol Hill and advocate for the issues that matter most to your organization.
How It Works
Prior to FOTH, your delegation captain will schedule meetings on Capitol Hill for the state delegation members with members of Congress. Your delegation captain will be in charge of setting up the meetings, communicating with you about updates, and coordinating a pre-FOTH call for all delegation members where you will be provided with everything you need to know. In addition, there will be on-site training to prepare you for everything you should expect during your meetings on the Hill.
Regardless of your experience doing policy work or participating in legislative visits, we invite and encourage you to join the delegation!
Other Policy Opportunities
In addition to the congressional meetings at FOTH, United Philanthropy Forum offers PolicyWorks Institute, a two-day opportunity for philanthropy policy staff and volunteer leaders to take a "deep dive" together to strengthen their policy and advocacy work. Join the policy staff from your regional and national PSOs and other volunteer leaders to enhance your organization's capacity to engage more effectively in advocacy, public policy and government relations work. PolicyWorks Institute will take place in Washington, DC on March 10-11, 2018.
How to Register
Participants can register for both FOTH and PolicyWorks Institute online at www.unitedphilforum.org/foundationsonthehill.
We look forward to seeing you in Washington, DC this March!