News
Five questions with our newest team member, Tuyen Nguyen
At Catalyst, we are diving into the in-between spaces to find new opportunities to secure funds, highlight programs, and build our region's nonprofit capacity to work with local, state, and federal government funders. Last month, we shared that Catalyst has been selected by the California Department of Social Services (CDSS) Civil Rights, Accessibility and Racial Equity (CARE) Office as a regional lead of the Stop the Hate Program.
Today, we're pleased to introduce you to our newest Catalyst staff member, Tuyen Nguyen, Stop the Hate program manager, who will be supporting the regional grantees in this work.
Tuyen has spent years increasing the capacity of individuals and organizations. She has more than a decade of experience developing and managing services in mental health, hospitality, the beauty industry, and higher education. Tuyen is excited to transition back to the work she is most passionate about, building power to impact social change.
"We are thrilled to have Tuyen's expertise leveraged to ensure the success of Stop the Hate, and to ensure our region's grantees are supported effectively," Megan Thomas, president & CEO of Catalyst shared.
Learn more about the grantees and work behind Stop the Hate here, and get to know Tuyen through her answers to five questions below: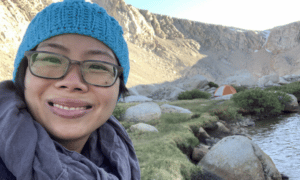 If you weren't in the social impact sector, what would you be doing?
I would work in hospitality or event planning.
What is the issue area that you are most passionate about? Why?
I am most passionate about food justice and mental health. Food is essential to our well-being and sustenance yet not everyone has access to healthy and nutritious food. The complexity of our individual relationship to it makes it more that much more difficult to understand how it impacts us over time including our own mental health.
What is the last book you read?
"Living for Change" by Grace Lee Boggs
What is one surprising thing to know about you?
My guilty pleasure is Korean dramas. When I was younger in Vietnam and in the early years of transitioning to the US, I watched Vietnamese dubbed Chinese dramas. In my early 20s, I discovered K-dramas and it is a mix of nostalgia and a way for my introverted self to unwind and disconnect.
Where is your favorite place to go in San Diego or Imperial Counties and why?
This year, I have spent a lot of time on the soccer field returning to a more active lifestyle and routine. Being out on the field with folks who are making time for themselves for exercise, fun, and a little competition has reminded me to make time for the things I enjoy.
—–
Interested in being engaged with the Stop the Hate Program? Drop a note for Tuyen here.