News
Exercising Philanthropy's Power for Equitable Community Outcomes
The philanthropic sector's growing urgency to tackle longstanding inequities offers strong motivation for funders to take stock […] Power, whether through organized people or organized money, is the force that changes systems, and changing systems is the only way to achieve equitable outcomes for all communities.
–National Committee for Responsive Philanthropy's Power Moves Toolkit
On June 4, the philanthropy community will come together at San Diego Grantmakers' 2019 Annual Conference to talk about the Power in Philanthropy. How can we, as part of the San Diego social sector, utilize the resources at our disposal to grow, share, and build power in the communities where it is most lacking? Here are just a few highlights from #SDGCon19 sponsors who are strengthening our region's diverse communities.

Cox Communications
Cox doesn't just power the San Diego region with its broadband network. It powers, and empowers, the community. To ensure digital equality for all, Cox partners with local schools and nonprofits such as Computers 2 Kids, San Diego to bring broadband access and computers to the homes of underserved K-12 students for their education. Through Connect2Compete, Cox provides low-cost internet and in-home wifi for qualifying families participating in the free/reduced school lunch program or other government-assisted food or housing program such as SNAP or TANF. And this year, Cox Charities celebrates its 20th anniversary of giving back to San Diego through employees donations that are matched by the company to fund scholarships for local high school seniors and grants for nonprofits.
Learn more about #SDGCon19 sponsor Cox here.

Jacobs Center for Neighborhood Innovation
The Jacobs Center for Neighborhood Innovation partners with residents, local leaders and organizations, and regional and national investors to revitalize Southeastern San Diego, a culturally-diverse yet underserved area that is prime for investment and transformation. The Jacobs Center serves Diamond District residents through Physical Redevelopment and Local Economic Development partnerships.  Together these partner networks help build capacity for revitalization in southeastern San Diego and for residents to lead locally, own community assets, and be financially sustainable.
Learn more about #SDGCon19 sponsor the Jacobs Center for Neighborhood Innovation here.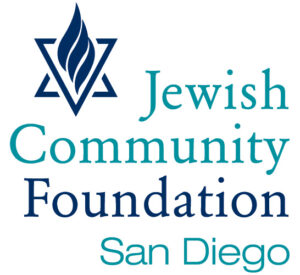 Jewish Community Foundation of San Diego
The Jewish Community Foundation (JCF) partners with individuals, families, and community organizations to help them achieve their philanthropic goals. For example, the Jewish Women's Foundation is a fund of JCF and acts as a giving circle—their current initiative addresses homelessness, hunger and poverty for Jewish women and girls. The giving circle's funds currently support three grantees: Coastal Roots Farm to support their Holocaust survivor food delivery program, G'mach (San Diego Jewish Gift Closet) for their emergency fund, and start-up funds for Marpeh, a program that will provide therapeutic yoga and wellness classes for impoverished women and girls.
To learn more about #SDGCon19 sponsor Jewish Community Foundation of San Diego, click here.

JPMorgan Chase
JPMorgan Chase is committed to driving inclusive growth and creating greater economic opportunity in cities across the world. As part of this initiative, JPMorgan Chase selected San Diego as one of five cities to receive a $3 million AdvancingCities Challenge grant. The grant will support Advancing San Diego, a cross-sector collaboration aimed at increasing educational achievement needed for highly skilled and in-demand jobs and supporting local businesses who are pushing the region's economy into the future.
Learn more about #SDGCon19 sponsor JPMorgan Chase here.