News
Catalyst Annual Conference, Here & Now: In Case You Missed It
As our team prepared for the first in-person Catalyst of San Diego & Imperial Counties Annual Conference in three years, we knew this event would be different. It needed to reflect the seismic shifts brought about by a national racial justice reckoning and a global pandemic that threw existing community disparities into sharp relief. It needed to support the social impact sector's growing integration of racial and climate justice, grassroots community-driven solutions, and trust-based philanthropy. It needed to reinforce the equity journey that Catalyst and so many of our members have embarked upon in recent years. Most of all, we sought to create a conference experience that shifted our collective perspective from a place of knowing to a place of learning. We are grateful for the partnership of the San Ysidro-based nonprofit Casa Familiar and countless other community partners who made this vision a reality at last week's conference!
On November 3rd the Catalyst membership and social sector leaders from across the San Diego County/Imperial region gathered in San Ysidro for Here & Now, our most community-centered event yet. Keep reading for a few of the unique experiences and "Aha!" moments that emerged during the conference.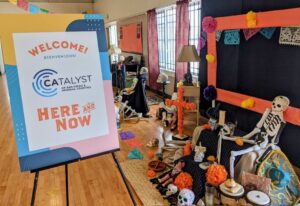 Upon walking into the San Ysidro Civic Center, attendees were surrounded by community altars created by local families in celebration of Día de Los Muertos. We greeted each other over pastries from local bakery Clementina's Sweets, including Pan de Muerto, a traditional Mexican pastry and key element in Day of the Dead altars. Coffee-drinkers were served drip coffee or specialty espresso drinks created by El K'FÉ, a youth barista training program operated by Casa Familiar.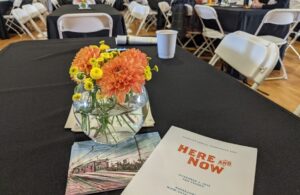 Opening Remarks
Kicking off the day, we were honored to be joined by cultural icon and member of the Campo Kumeyaay Nation, Paul Cuero. Cuero spoke with us about his experiences working to reintegrate Indigenous culture, language, and traditional knowledge into his community, particularly for youth. "Today we see a lot of our young people are lost, they don't know where they fit in," he shared. "When you have an identity, you can fit in anywhere; when you're grounded in your spirituality, you can relate to other cultures. That's what we're teaching our children now."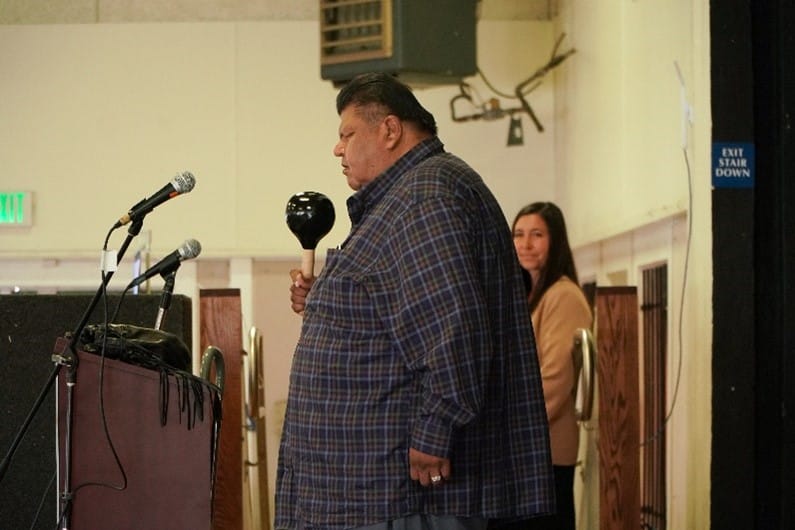 Cuero also performed a Bird song – a traditional Kumeyaay musical and oral tradition meant to create unity, allegorically tell history, convey philosophy, and explain the connection to the landscape.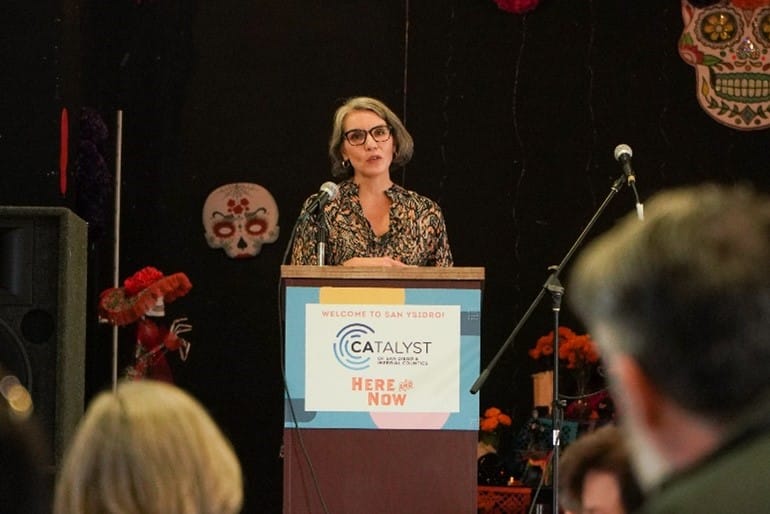 Next, Dr. Carmen Rojas, President and CEO of the Marguerite Casey Foundation, took the stage with a thought-provoking and energizing keynote on philanthropy's role and responsibility in funding social justice leaders and movements. In her signature frank and witty style, she reminded us that philanthropy must "disentangle the relationship between wealth and power" to truly understand (and fulfill) our responsibility to communities. Rojas also shared a few specific tips funders can use to better align practices with their social justice-oriented values, including: compensate people for their time, e.g., meetings with your staff; commit to supporting a percentage of a grantee's budget, not just a random dollar amount; and establish a feedback loop to build transparency and trust with community partners.
Morning breakouts spotlight political determinants of health, data-driven equity work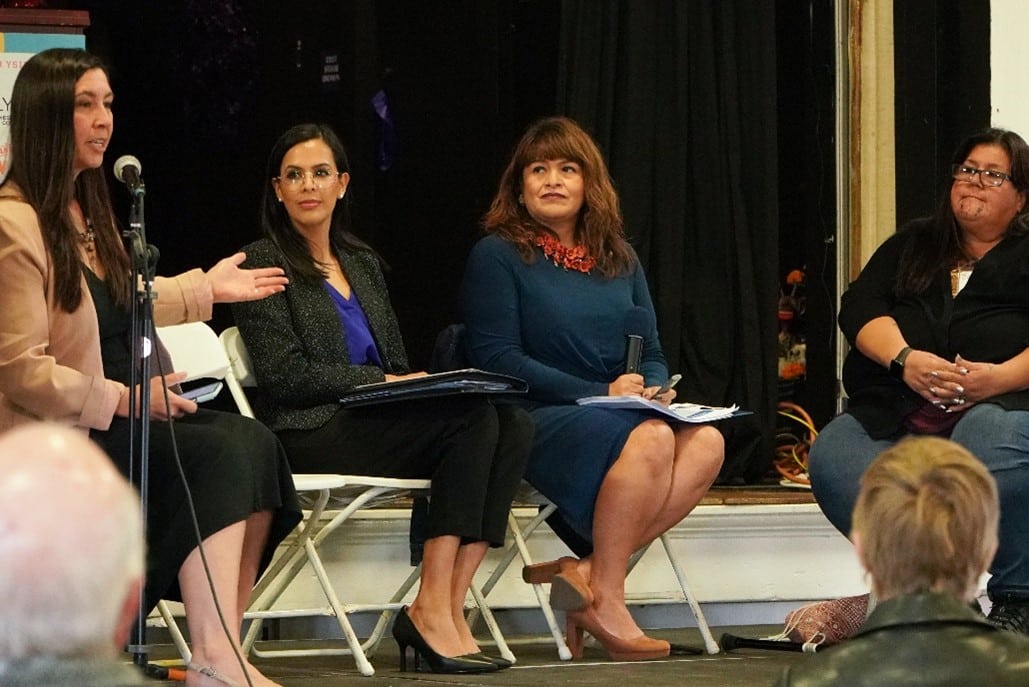 In our breakout on the political determinants of health, Ana Melgoza and Alejandra Perez of San Ysidro Health gave an overview of their work supporting low propensity voters in San Ysidro. They outlined how personal health goes beyond individual agency, including how long-term disparities like limited access to healthcare and affordable housing negatively impact community health. Chairwoman Bernice Paipa from the Iipay Nation of Santa Ysabel explained how the health of her community is often reliant on conditions determined by forces out of their control. In addition, Supervisor Terra Lawson-Remer made a surprise guest appearance to talk about her work protecting the Affordable Care Act and ensuring access to healthcare for every San Diegan.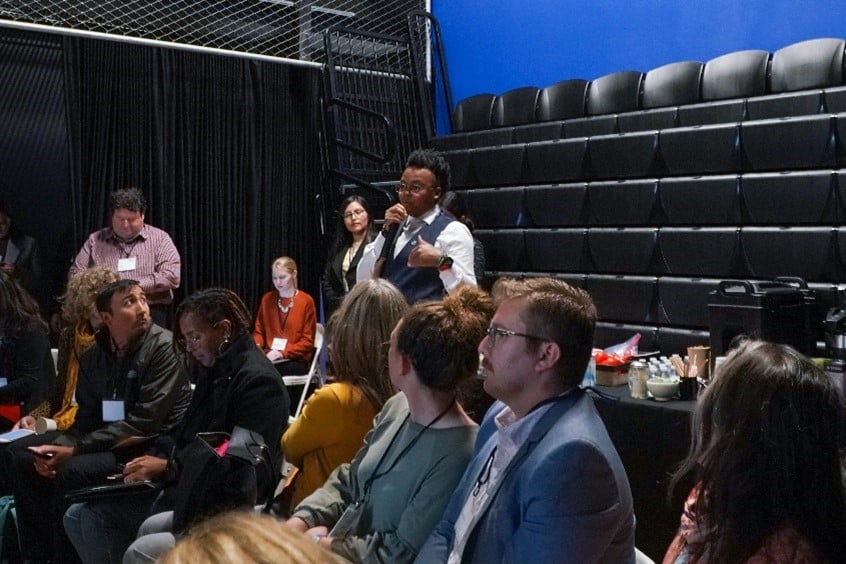 Meanwhile, in our skills session on data, participants heard from three of San Diego's top thinkers and practitioners who are putting data to work for the benefit of our communities. Andrew Strong, Director of San Diego County's Office of Equity and Racial Justice; Kim Desmond, Chief Race & Equity Officer for the City of San Diego; and Stephen Minix from UpMetrics each led small group conversations during the session exploring how data can augment the social impact sector's work by building a more thorough, transparent accounting of how grantmaking, government funding, and private investments support communities — or fall short of doing so. As Andrew Strong noted, "The systems and structures that are systemically racist are often the ones designing measurements and creating data sets, [which are used] to make decisions. Now we need a paradigm shift to think about what accountability really means and what we measure." Participants and session leaders alike were eager to keep the conversation going – stay tuned for future learning opportunities on using data to inform structural changes and build equity into public policy/social sector work.
Lunchtime!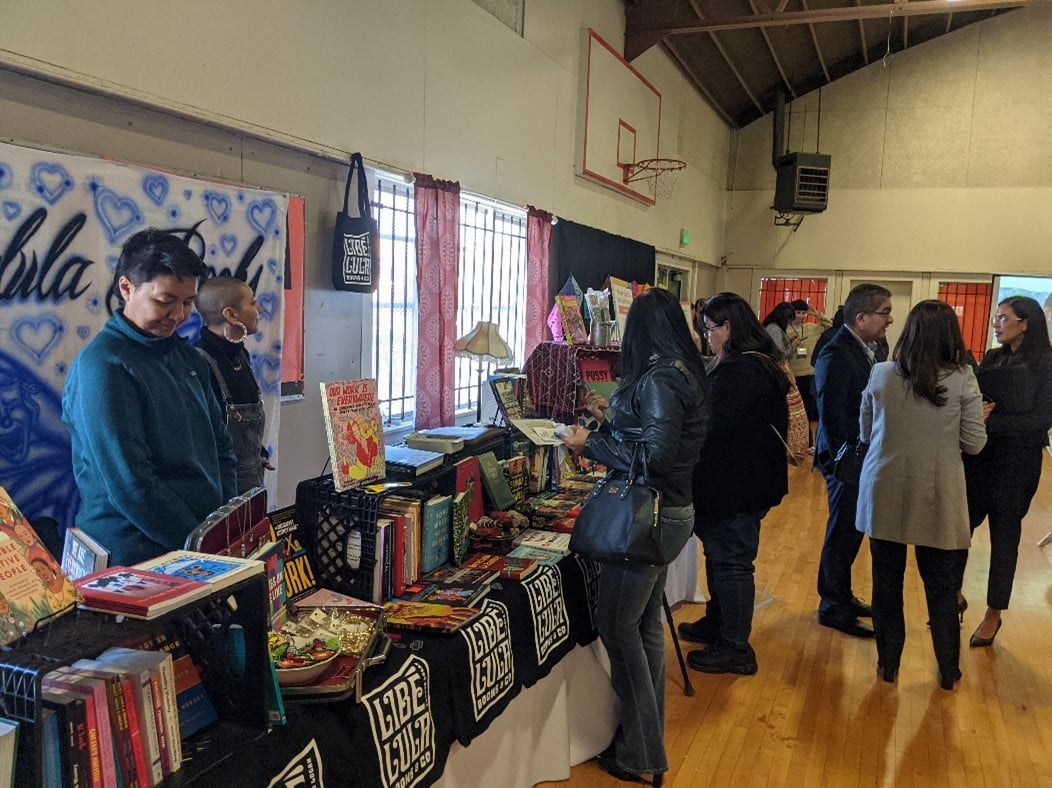 During a delicious lunch of mole chicken and nopales catered by San Ysidro-based restaurant El Rincon, attendees shopped a selection of local vendors, including Libelula Books. Participants who supported public transportation by carpooling or taking the trolley were entered into a special opportunity drawing, and two lucky winners took home paintings by Tijuana-based artists! Art enthusiasts were also able to head down the street to The FRONT art gallery, operated by Casa Familiar. While at the gallery, they toured OUR ANCESTOR'S DREAM: Life between three worlds, an exhibit featuring Kumeyaay artists from California and Baja California, Mexico.
Afternoon breakouts tackle sustaining social change and transformative narrative change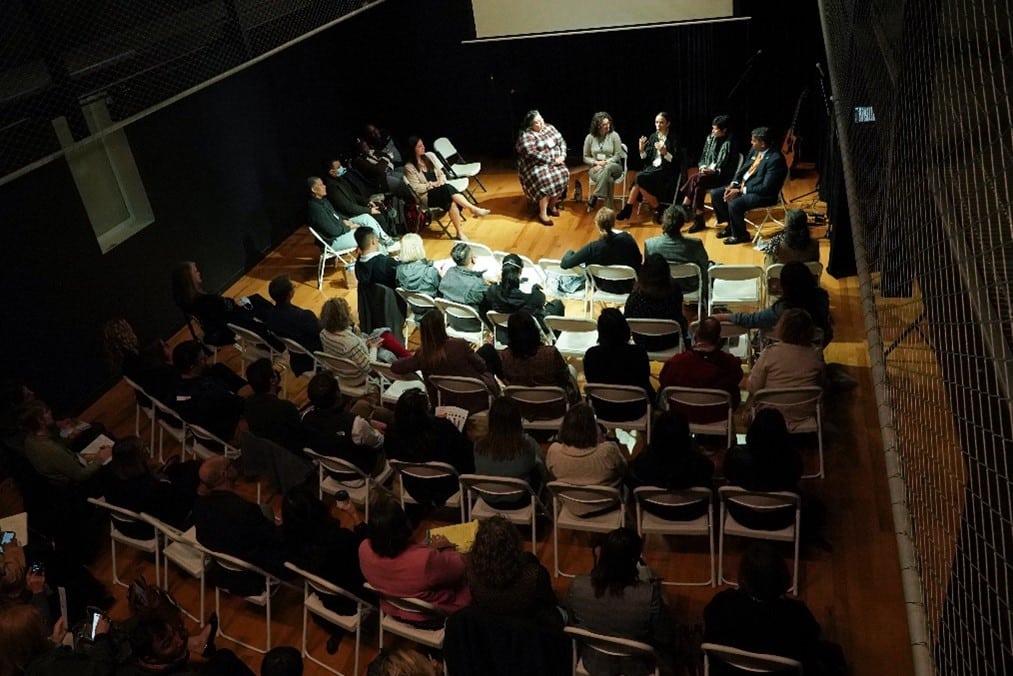 In our breakout on sustaining social change, speakers including Christina Snider, Tribal Affairs Secretary to Governor Newsom; Kris Lin Bronner, Dr. Bronner's Family Foundation; and Vino Pajanor, Catholic Charities Diocese of San Diego shared how they have approached a balanced and more equitable conception of sustainability. In particular, we explored community ownership of land and property, investing in the skills and wellness of people, and what funding can look like in these situations. During the session, Casa Familiar President and CEO Lisa Cuestas captured a thorny issue at the heart of affordable housing: "There are not enough financial tools out there flexible enough to meet the needs we have today. Housing is not 'innovative,' but we wanted to figure out how to do it in a sustainable way." For Cuestas, the sustainable, affordable housing equation includes environmental, community, and economic factors (think air quality monitoring, theater spaces, walkable social services). Casa Familiar teamed up with private developer Ginger Hitzke — and actually received a foundation grant just to brainstorm together — about how current affordable housing policies could be maneuvered to build affordable housing that puts residents on a path toward ownership and economic stability.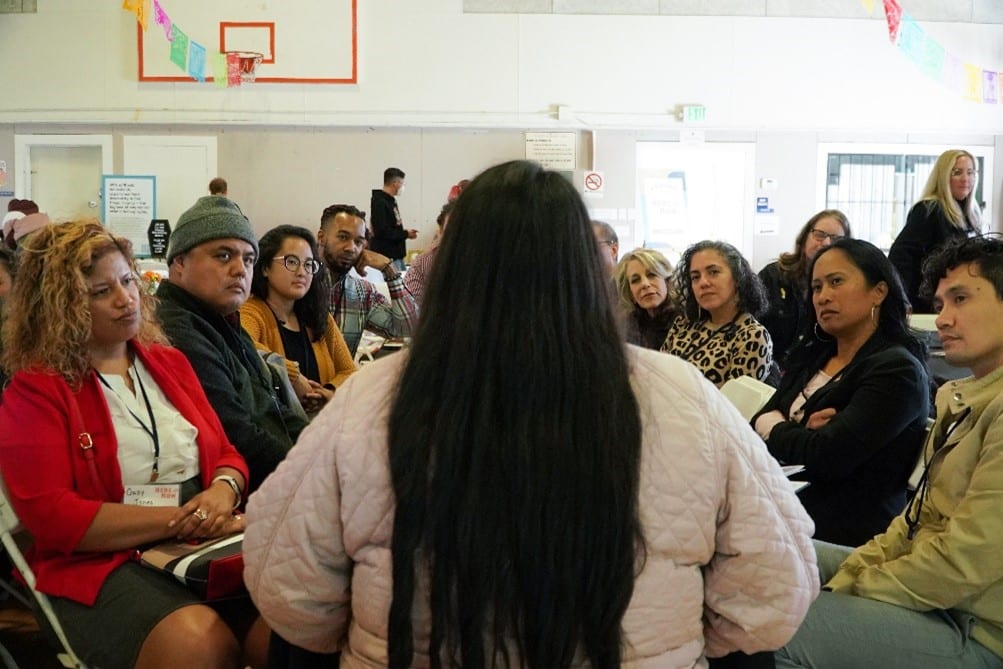 In a session on narrative change, we explored how the work of social change happens within and is influenced by the stories people tell about themselves, their strengths, and their communities. Attendees had the opportunity to break into small groups for intimate conversations with speakers Emily Burgueno, Iipay Nation of Santa Ysabel; Andrea Guerrero, Alliance San Diego; Omar Lopex, Standard Fantastic Pictures; and Rosa Diaz, Vince Polluzi, and Joey Espinoza from the Imperial Valley LGBT Resource Center. These rich conversations illuminated how narrative change impacts work across sectors and issue areas — helping participants brainstorm strategies to fund narrative change as a key element of social impact efforts in our individual and collective work.
Closing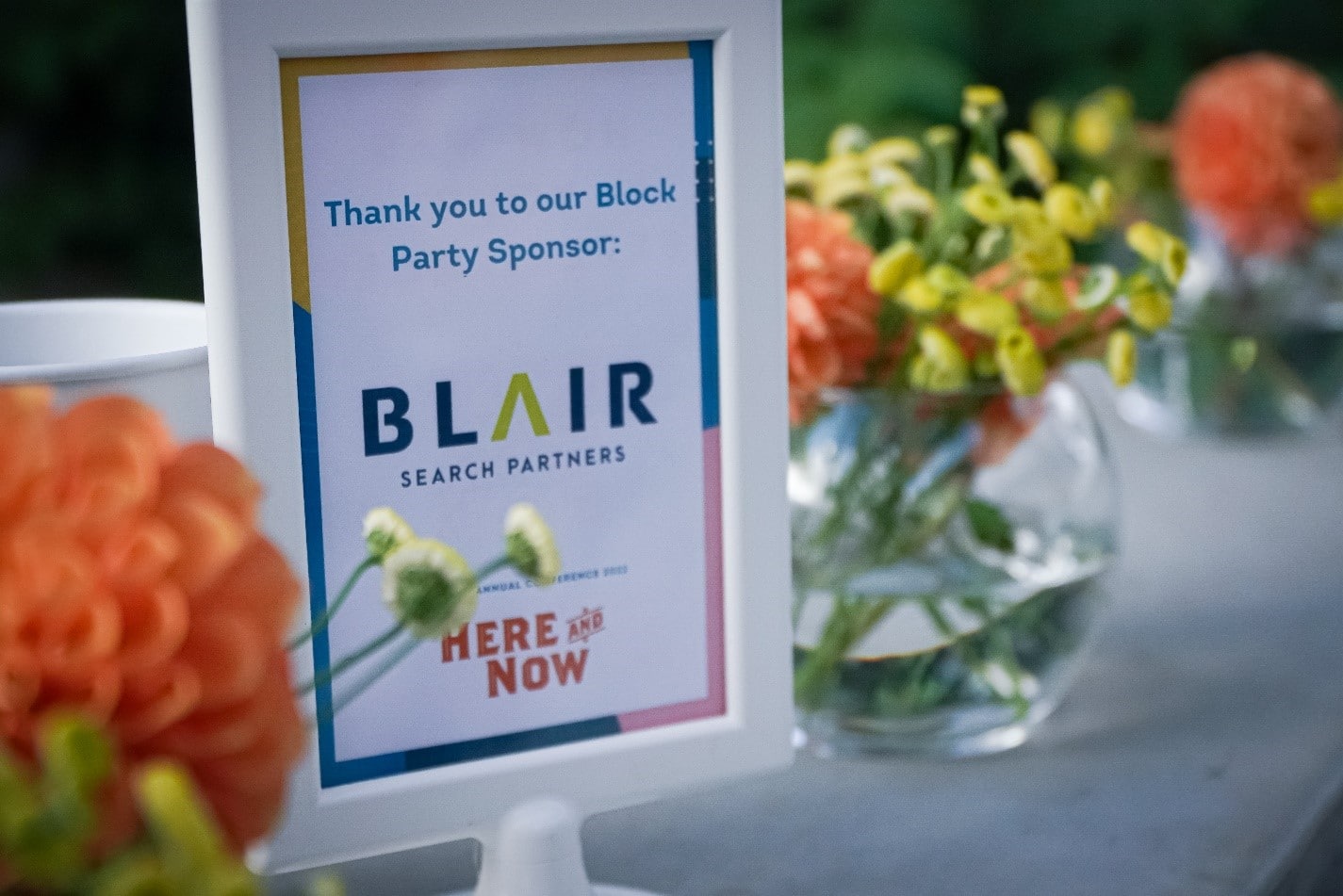 To round out the afternoon, conference attendees came together for a truly special performance experience created in collaboration by San Diego/Tijuana based artists from Rabbitlight, Abracadabra Mexico, and Infringement Productions. Featuring a powerful array of live music, song, dance, spoken word, and digital imagery, "Death has Butterfly Wings" allowed us to musically experience Día de los Muertos and the story of a monarch butterfly that carries the souls of those who have passed on, reminding us that life is a network of endless possibilities. The piece also called attention to the phenomenon of dead and missing women and children in the U.S./Mexico border region.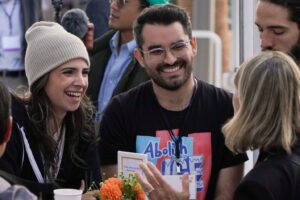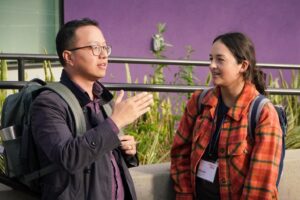 Finally, we celebrated a vibrant day of learning and connection with a block party outside of Casa Familiar's Living Rooms at the Border. With Rabbitlight at the DJ table and catering from Los Pinches, conference goers ate, drank, and reflected on all many ideas and insights absorbed throughout the day. We also asked participants to write down something they commit to changing in the next six months. Catalyst will mail to these commitment postcards — featuring art by Tijuana-based artist Aida Urbina — back to participants in six months.
With so many powerful and frank conversations covering a wide array of issue areas, it's impossible to put the day's learnings into a neat package. But perhaps what was most exciting about this year's conference was how many more questions and ideas emerged for social impact leaders to consider moving forward. We know it takes a village to develop a thriving ecosystem and sustain social change across all disinvested communities in our region. Catalyst looks forward to supporting that village of social impact leaders as we work toward thriving, equitable communities throughout San Diego County, Imperial County, and beyond. Stay tuned for further learning and collaborative opportunities building off these ideas!
Thank you again to our sponsors for making this wonderful day possible: