Story
2021 Annual Conference Recap
All In 2021 invited members, partners, and colleagues of Catalyst of San Diego & Imperial Counties to a day of inspiration and works-in-progress illustrating how, collectively, a transformative social change ecosystem can come into being and realize a just, equitable future for our region.
We have cataloged all parts of the day in this easy to browse video playlist. Or, you can access our resource page for further links. Below are our top line reflections for the day – and the future!
OPENING KEYNOTE
What if WE are the answer we have been looking for? In a powerful opening keynote, Marcus Walton, president and CEO of Grantmakers for Effective Organizations, namedthe challenge before us: to respond to the individuals and organizations working for social equity – to be all in to create the conditions for change.
Marcus described "all in" as being part of a movement to create a welcoming environment where all people can live the fullest expression of themselves and translate those conditions into the quality of life that we all deserve. He emphasized the need to develop shared understanding and include a racial equity analysis that raises the bar on what we expect for ourselves and others.
He prescribed openness and curiosity and a structural approach that undoes what exists and reshapes our resources and how they are shared. He called on us to reimagine what is possible in the following ways:
Pay attention to power, how it is used, and our place in it, then align power with our shared goals of transformative communities of justice
Cultivate relationships based on trust, knowing that change happens at the pace of trust and progress happens at the pace of change
Then, with power in the right hands and trust among a community of changemakers, we can establish and achieve a shared vision for the future of this region
With that inspiration and affirmation, we heard from six community-driven individuals and groups about the work they are doing that gives us hope for a thriving San Diego and Imperial County region. Opening videos narrated by Adriana Heldiz of the Voice of San Diego laid a groundwork so that our narrative "is one rooted in truth and told with the voices of those closest to the issues."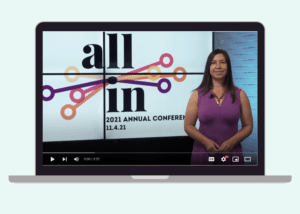 Click image to access all recordings of conference.


ARTISTIC PERFORMANCE
Artist, author, and educator Terrance Carter (TCUPLIFTS) delivered a poem entitled "Now," that spoke of a moment in time when he envisioned a new and powerful future for himself. Underlying the emotion and conviction of his words were the conditions that had previously kept him from imagining. "Whenever life throws me a ladder, I'm 100% eager to climb…Life is not checkers, it's more like chess."
AN EXPLORATION OF OUR REGION
Powerhouse mother-daughter duo Cynthia Ajani and Khea Pollard of Café X and the Resilient Communities for Every Child guaranteed income project explored how to undo the structural oppression of Black people in San Diego by creating a collectively-owned business to support a thriving Black community and a guaranteed income project that invests in long-term sustained change for Black women and families.
With the greatest number of children of military families anywhere in the country, San Diego's childcare and family-supporting services for military families directly impact how our region flourishes. Tim Ney of Armed Services YMCA shared why he doesn't always follow the rules when it comes to meeting a families' needs.
We explored the importance and under-supported nature of rural communities with Roque Barros of Imperial Valley Wellness Foundation and Bobby Brock of Imperial Valley Community Foundation. This area of our region produces two-thirds of the nation's vegetables every winter, and sits amidst transformative green energy resources in the form of wind, solar, and lithium; supporting Imperial has impacts felt across our nation.
Jason Wells of the San Ysidro Chamber of Commerce described the many businesses in this community of the City of San Diego as "America's Finest Front Door." And while the resilient residents and business-owners in San Ysidro say they'll recover just fine, two years of disruption through federal border policy has cost them and our region more than $1 billion in revenue. But they are bouncing back with a new plan to reimagine commerce in the region by embracing technology and building strong multi-jurisdictional advocacy efforts.
Proving you are not your job title nor does that give you any particular status, Javier Guerrero and Lorraine Orosco talked about their decades long relationship that has seen the San Pasqual Band of Mission Indians in partnership with the Museum of Us (then the Museum of Man), the Children's Discovery Museum, and now Coastal Roots Farm, and the many lessons to be learned about listening, humility, creativity, and, yes, investing time into building trust.
CLOSING KEYNOTE
Philanthropists and investors in our region are stepping into a way of thinking that embraces the decades and centuries of leadership and action by Black people and people of color, Indigenous people and community leaders with an unwavering commitment to uplifting all those around them. In our closing conversation, Pamela Gray Payton of The San Diego Foundation joined Marcus Walton to unpack how to take the unearned power that philanthropy enjoys through the resources it has accumulated and redirect the course of decisions, allocations, and agency to be a part of this future vision that was illustrated by the day's speakers.
Pamela's personal journey into philanthropy serves as a pathway to mobilize resources for the communities she grew up with and saw as incredibly effective while doing their work without the resources that could be available. She described how, through her role with The San Diego Foundation, she is able to model relationship-driven grantee relations such as in the COVID community response fund that gave rapid general operating grants to small grassroots groups; build system-transforming projects that help residents break out of a history of wealth suppression like the Black Community Investment Fund for homeownership; and to extend the table to ask community members what they need – and listen! – leading to $66 million in funding for COVID response.
Marcus' reflection on Pamela's grace and vision as a leader captured the essence of what we strive for: partnership, relationship, daring, and a collaborative ecosystem that works side by side to, as Marcus says, "grapple with the complexity of operationalizing our values."
As our whole selves, making a commitment to be all in, we can create a vibrant future San Diego & Imperial County region that promotes racial and social justice and acknowledges that we must fight for the wellness and potential of all people.
We will dig deeper on the learning topics covered in All In through enriching learning opportunities (both online and in-person) in 2022. Didn't attend the conference? Browse our video library and get up to speed on the leaders you should know shaping change in our region.