Webinar
The Ethos of Being Trust-Based Session 3 | Building Trust Begins At Home: Practices that Advance (or Weaken) Trust Within Your Organization
Tuesday, February 23, 2021 @ 10:00 am - 11:30 am
A trust-based culture—one that prioritizes power-sharing, dialogue, transparency, and learning—is essential to cultivating relationships of trust within organizations. Simply put, being a trust-based organization requires there to be trust within your organization—among staff, between staff and board, and between the board and the CEO. When this trust is broken, or if it is never built to begin with, it can seep into the external aspects of your work with the potential of threatening your relationships, credibility, and reputation. In this session, we will:
Work with tools for building and sustaining trust internally
Learn to recognize and prevent microaggressions and macroaggressions that undermine trust-building
Understand ways to build and sustain internal dialogue, understanding, and transparency to equip your organization for navigating the discomfort and breaches in trust that may occur within your organization.
This session will be moderated by Kameron Green, Southern California Grantmakers.
If you require any accommodations to fully participate in this program, please contact [email protected].
Shawn Escoffery, Executive Director, Roy + Patricia Disney Family Foundation
Shawn Escoffery is the Executive Director of the Roy and Patricia Disney Family Foundation, where he leads a team committed to social justice and addressing the historical inequities that plague many lower-income communities. Since joining the Foundation 2018, Shawn has led the organization through a strategy revisioning process, created a fellowship for someone who was formerly impacted by the Justice System, and launched an Impact Investing portfolio with a 10% carve-out of the endowment. The Foundation now focuses on Criminal Justice Reform, Environmental Justice, and Affordable Housing Preservation with a trust-based approach that is centered in place and emphasizes lasting partnerships as well as capacity building. With assets exceeding $120 million, Shawn oversees a $5 million annual grantmaking budget and is responsible for sourcing impact investments ranging from $250,000 to $1 million aimed at advancing racial and gender equity.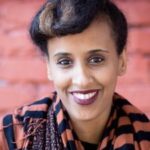 Solomé Lemma, Executive Director, Thousand Currents
As Executive Director, Solomé works closely with the board to set the strategic direction for Thousand Currents and is responsible for ensuring Thousand Currents remains a dynamic, innovative, and financially-sound organization, rooted in its support of grassroots partners.
A champion of social transformation through community-driven initiatives, Solomé joins Thousand Currents from Africans in the Diaspora (AiD), an initiative she co-founded and led for four years before its merger with Thousand Currents. Previously, Solomé served as Global Fund for Children's Senior Program Officer for Africa, managing a portfolio of over 100 grassroots organizations in about 25 countries. She  has also worked with the UN Development Programme in Ethiopia, Human Rights Watch in New York City, and International Rescue Committee in Liberia. Solomé currently serves on the advisory board of the Agroecology Fund.
Brenda Solórzano, Chief Executive Officer, Headwaters Foundation
Change maker, believer in the power of community, driver of innovation and learning and always makes time for play. Brenda has spent her career working for good in the philanthropic world on issues related to health policy, the health care safety net and community health issues affecting vulnerable populations. She is a strategy, evaluation, program and grant making guru with an eye toward local collaboration and a keen sense that change happens when communities come together to engage in good work. She is invested in the work of the Headwaters Foundation because she believes every child deserves a healthy start to life. She left her beloved San Francisco to move to Montana to re-invent philanthropic practices at Headwaters and live in Big Sky Country with its slower pace of life and stunning beauty. Brenda holds a bachelor's degree in history and political science, a juris doctorate, is a member of the California state bar association and is a Terrance Keenan Emerging Leader in Philanthropy Fellow. Living in Montana, Brenda is learning to be an avid lover of nature and the great outdoors, along with her husband and two children.