Networking
March's Third Impact Thursday
Thursday, March 17, 2022 @ 5:00 pm - 6:30 pm
We're back, baby! Join us for Catalyst's first Third Thursday of the year. What's that, you say? Third (Thirsty) Impact Thursday is our impact investing happy hour where we gather folks to hear about the latest in the field from a leader in the space and connect with one another. We'll also introduce a key partnership for 2022 and create opportunities to stimulate thinking about what you can do to get more involved in impact investing this year.
We're back with a bang: this month's gathering will feature Zuleyma Bebell, co-founder & director of operations at ImpactAlpha. ImpactAlpha is redefining business journalism around social and environmental value. They expose, inform, narrate, and critique the impact investing space while fostering a growing community of agents of impact. Whether you're an impact investor or simply curious about knowing more, this is the event for you.
We're so looking forward to seeing you in person. Out of an abundance of caution, guests must be fully vaccinated to join. Event will be in an outdoor space with reduced capacity. Masks are encouraged when not eating or drinking.
If you require any accommodations to fully participate in this program, please contact [email protected].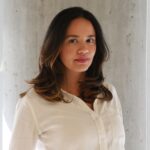 Zuleyma Bebell, Co-Founder and Director of Operations, ImpactAlpha
Zuleyma is a co-founder and the director of operations of ImpactAlpha, the leading provider of impact investing news. Zuleyma designed and drove ImpactAlpha's transition from an online news publisher to a modern media organization, serving the impact investing community with daily news, commentary, podcasts and events. Zuleyma manages ImpactAlpha's business development and strategic partnerships, providing curated products and services to serve the growing impact investment industry.