Webinar
Grantmaking with a Racial Equity Lens | Foundations of Racial Equity Session 5
Tuesday, November 9, 2021 @ 9:30 am - Tuesday, November 16, 2021 @ 12:00 pm
Anti-Black racism and white supremacy are embedded in philanthropy and in our institutions, often invisible to the majority of us, even as we work with intention towards equity and justice. As change agents within philanthropy, we are stretching to become our best selves, rise to the moment, and progress toward racial equity.
In order to undo systems of oppression, we need to understand the foundations of systemic anti-Black racism and white supremacy in our country. We cannot shift systems or our organizations without understanding how we got here, nor without looking at ourselves, at our relationships, and at our organizations themselves. The guiding purpose of Philanthropy California's Foundations of Racial Equity (FRE) Series is to provide training for philanthropic practitioners to understand how anti-Black racism and white supremacy influence the field of philanthropy and to provide opportunities for action in your organizations based on what you learn here.
You can register for the full series at a discounted price or the individual sessions of your choice. We recommend attending Session 1 along with any other individual sessions you choose as it lays the groundwork for all session content. 
We will explore the Association for Black Foundation Executive's (ABFE) approach to grantmaking with a racial equity lens. ABFE's framework provides opportunities for grantmakers to support Black communities, and, more broadly, our greater society. ABFE's analysis and tools build upon grantmaking with a racial equity lens but are tailored specifically to grantmaking in and for Black communities. By centering systemic anti-Black racism within an intersectional framework through which we understand the social, economic, historical, and cultural dimensions of human life, we can each understand the role we play in our fight towards racial equity and justice. As a result, ABFE has created a set of tools that reduce gaps in racial disparities facing Blacks in the United States.
ABFE trainers will guide participants through an introduction to ABFE's framework for advancing racial equity through policies and practices. The training will focus on the incorporation of a structural lens to the work of grantmaking, and an introduction to the use of core tools to advance racial equity. Three tools will be presented in this module: 1) Data disaggregation and root cause analysis; 2) Racial equity impact analysis; and 3) Communication
We will practice working with some of the tools we explore. Participants will take a deep dive to learn how to take action to advance racial equity through their foundation's grantmaking practice.
Join us to:
Learn about ABFE's framework for advancing racial equity through policies and practices
Learn about ABFE's core tools that enable grantmakers to take action to advance racial equity in your foundation's grantmaking practice
Workshop one or more of ABFE's tools to advance equity through grantmaking
Session Info
The Series is made up of six sessions. Each session includes two modules. 
Module A: Tuesday, November 9 | 9:30 am – 12:00 pm PT
Module B: Tuesday, November 16 | 9:30 am – 12:00 pm PT
Registration Fees
Members: $100 per session or $500 for the full series
Nonmembers: $150 per session or $750 for the full series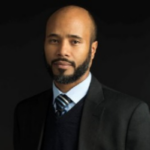 Anthony Simmons, Director of Philanthropic Advising Services, ABFE
Anthony J. Simmons has over two decades of experience in community-centered work, with a commitment to supporting people in marginalized communities and disrupting the systems which marginalize them. Currently, Anthony serves as the Director of Philanthropic Advising Services at ABFE: A Philanthropic Partnership for Black Communities. ABFE is a membership-based philanthropic organization that advocates for responsive and transformative investments in Black communities. ABFE's Responsive Philanthropy in Black Communities(RPBC)framework, focuses on the drivers of poor and disparate outcomes in Black communities—and other communities of color—and provides support and tools for leading community change efforts, particularly in places where there has been a long history of racial inequity.
Prior to joining ABFE, Anthony served as the Senior Adviser for the New York City Mayor's Office Young Men's Initiative (YMI), a public-private partnership created to address racialized disparities for the City's youth of color in personal/community safety, economic security, and mobility, education, and health and well-being. During his tenure at the YMI, he managed the YMI's Equity Committee—a multi-agency advisory board with the mission toward reducing those disparities. The committee was established to promote cross-agency thinking and collaboration to increase awareness of racialized disparities and their root causes, as well as identify best practices to alleviate them. Anthony's career in philanthropy began at the Schott Foundation for Public Education where his work focused on developing and supporting equitable funding and policy strategies, which seek to close the racialized educational opportunity gap and the school-to-prison pipeline. He has also worked in the fields of foster care social work and youth development.
Anthony is currently the Chair of the Board of Advisors for Emerging Practitioners in Philanthropy(EPIP), a national network of changemakers who strive for excellence and equity in the practice of philanthropy. He also serves on the Board of the Center for Racial Justice in Education(NYC). He is the former co-chair of New York Blacks in Philanthropy, a local membership-based organization of Black professionals, particularly representing people of the African Diaspora, committed to strengthening networks, addressing collective challenges, and fostering opportunities within the philanthropic sector. A native New Yorker, Anthony attended Trinity and Brooklyn colleges. In his free time, he is an experienced deejay and music collector.