Webinar
Equitable Outcomes and Community Schools
Thursday, June 15 @ 1:00 pm - 2:00 pm
Join us for an engaging and thought-provoking webinar focused on the transformative power of community schools in fostering equitable outcomes. During this session, we will explore the critical role that community schools play in addressing systemic barriers and promoting inclusive education. We will delve into the principles and practices of community schools, highlighting successful models and best practices from around the state and provide an overview of the pilot project happening here in San Diego. Hear from experts from the Center of Policy Initiatives and Eric Morrison-Smith, Executive Director and Dr. David C. Turner from the Alliance for Boys and Men of Color as we explore how philanthropic organizations can leverage their resources to strengthen community-school partnerships, empower local communities and make a significant impact on educational equity.
Target Audience
This program is designed for members of Catalyst and open to other funders, educators and administrators interested in educational equity.
Speakers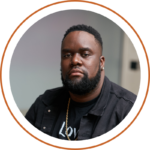 Dr. David C. Turner III | Senior Advisor at Alliance for Boys and Men of Color
Dr. David C. Turner III joins the ABMoC team as a Senior Advisor, working with the team to further develop internal infrastructure and on campaigns to uplift community schools, transform school discipline, and decriminalize youth and communities of color. Prior to joining the ABMoC team in an official capacity, Dr. Turner was a partner with the Alliance as the manager of the Brothers, Sons, Selves Coalition in Los Angeles, a part of the inaugural ABMoC Data Fellowship with the Tableau foundation, and as a staff member with the Social Justice Learning Institute in Inglewood, CA, his hometown.
Dr. Turner brings years of experience to the team, having successfully co-led and supported campaigns to reinvest resources from carceral institutions to life-sustaining ones, driven large-scale participatory action research projects, and worked to change youth and education policy at both the local and state levels. Notable campaigns include the movement to reallocate school police dollars to a Black student achievement plan in LAUSD, eliminating willful defiance for grades K-8 at the state level, and working to collect and analyze over 24,000 surveys as a member of the Research team with Black Lives Matter-Los Angeles and the People's Budget LA Coalition.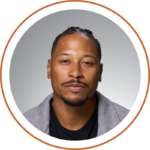 Eric Morrison Smith | Executive Director at Alliance for Boys and Men of Color
Eric Morrison-Smith is the Executive Director for the Alliance for Boys and Men of Color (ABMoC). He formerly was the Policy Director for the Alliance and supported the network's operations and communications. As the Executive Director, Eric works to center directly-impacted people and grassroots organizations to translate their vision and aspirations into structural change and works with network partners to build power to abolish systems of oppression and transform the material conditions of Black people, Indigenous people, and people of color.
Eric has worked at PolicyLink, San Diego Workforce Partnership, and RISE San Diego, where he focused on strategy, communications, and youth organizing for policy and system change efforts. He currently sits on the boards of Mid City-CAN and Center for Policy Initiatives and the Policy and Advocacy Committee for Catalyst San Diego. In his free time, he loves to read, work out, cook/eat good food, and will watch anything and everything comics-related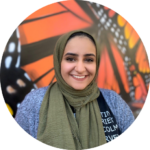 Sarah Farouq | Organizer at the Center on Policy Initiatives
Sarah Farouq is an organizer and coordinator of the Students for Economic Justice program at the Center on Policy Initiatives. Through this role, she organizes and convenes the San Diego Community Schools Coalition, a coalition of union and community organizations working towards education equity in the San Diego Unified School District.  Prior to CPI, she has organized and advocated in the fields of economic, immigration, and criminal injustice in the San Diego region, statewide, and nationally. Most recently, Sarah was working at AAAJ-Asian Law Caucus as a Community Advocate at the National Security and Civil Rights Program. Sarah's passion for community work stems from her experience as an Iraqi refugee in the U.S. who's had to navigate different systems and has been directly impacted by many unjust policies. Currently, Sarah holds a B.A. in Political Science from UC Berkeley and she hopes to eventually earn her J.D. and advocate for marginalized communities impacted by systemic injustice from a legal capacity and uplift their issues on a policy level.
Besides CPI, Sarah is currently a youth advisory board member at Borderlands for Equity and a commissioner at the San Diego County Human Relations Commission. Outside of community work, Sarah enjoys the company of cats (and family and friends, of course), making tea concoctions, and practicing guitar.